WELCOME
Oozing with ambience, you will find our little ferry inn, whose history dates back 800 years, directly on the Holbæk fjord. Its history goes back 800 years, but in 2021 the inn was taken over by the Fogtmann family, who has renovated the inn so that the restaurant and all the bedrooms appear light and classical beach hotel-like but equipped with all modern comforts.
In the summer of 2022, a small ferry – the Hørby Boat – went into service, crossing the fjord between Hørby and the harbour in Holbæk during the summer half-year.
If you wish to pay our restaurant a visit, we recommend that you book a table here.
We look forward to seeing you at Hørby Færgekro – directly on the waterfront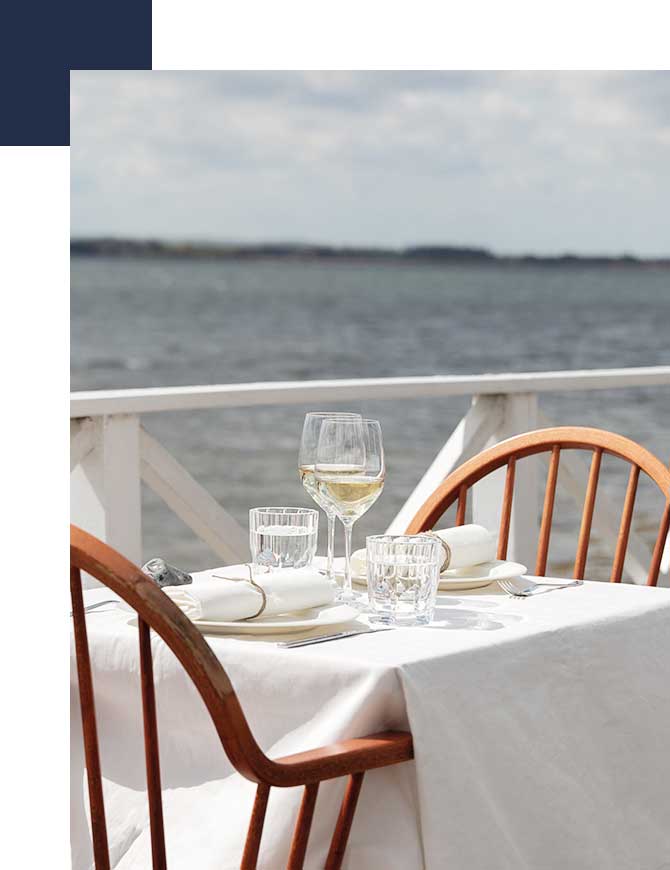 RESTAURANT
Indulge your appetite and your senses. Our restaurant offers both lunch and dinner, served while you enjoy the sound of lapping waves and the panoramic view of the fjord. You may sit outside, enjoying the beautiful surroundings, or inside in our lovely restaurant. We serve delicious food for the whole family.
We recommend that you book a table here.
ACCOMMODATION
If you need a break from the daily grind, we are ready to be there for you. It is our aim to spoil our guests, who need only lean back and enjoy.
The rooms at Hørby Færgekro come in various sizes and appearances. You may choose between different kinds of rooms – all, however, have a double bed and bathroom/toilet en suite.
Experience the many gems that Tuse Næs offers – for example, take a walk along the waterfront to the small Hørby harbour.
We serve your breakfast and your lunch along with an unforgettable view of the fjord.